I was wondering which effect the coronavirus has on Internet traffic. As we all know, many people now work more in home office and people consume more streaming (e.g. YouTube, Netflix etc.) and gaming services (e.g. Steam or Google Stadia).
For this purpose, I looked at the statistics from DE-CIX in Frankfurt, which is the second largest exchange point worldwide in terms of peak traffic (source: Wikipedia).
So, let's check the 1-year graph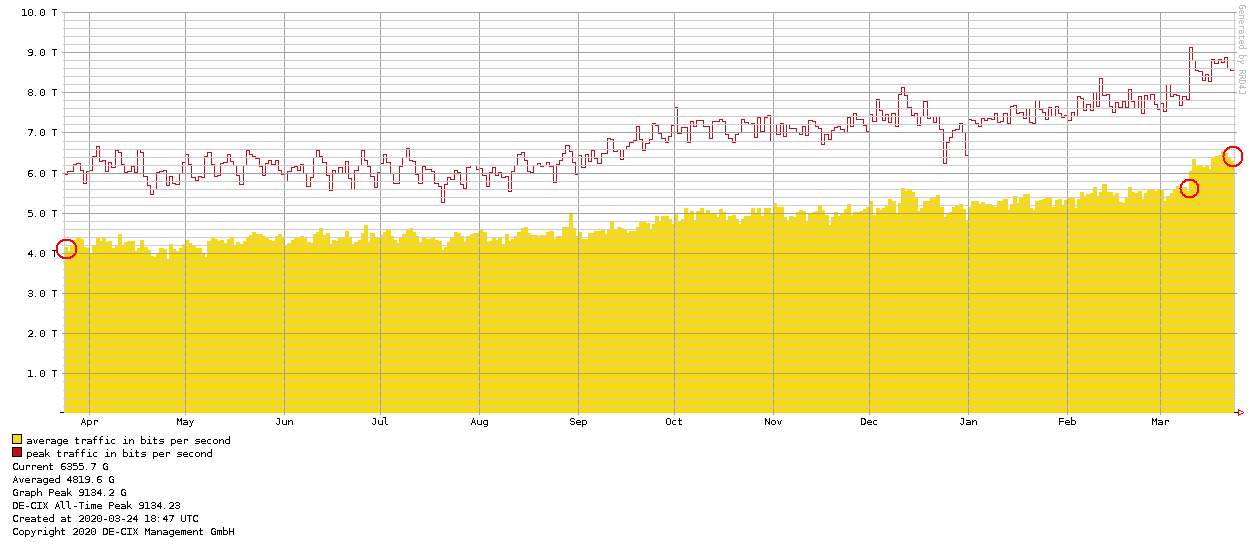 Starting with the march 24th 2019 we had averaged traffic around 4200~ gigabits
At the 14 march 2020 we had around 5600~ gigabits (second mark)
At the 24 march 2020 we had around 6400~ gigabits (third mark)
If we look at the growth from the starting point till the 14 march 2020 (almost a whole year), we see a growth by around 1400~ gigabits (in DE-CIX Frankfurt).
And if we compare between 14 march 2020 and 24 march 2020, we see a growth around 1200~ gigabits.
That means, that in about 10 days (in reality even less) the internet average grew almost as it normally does in a whole year.